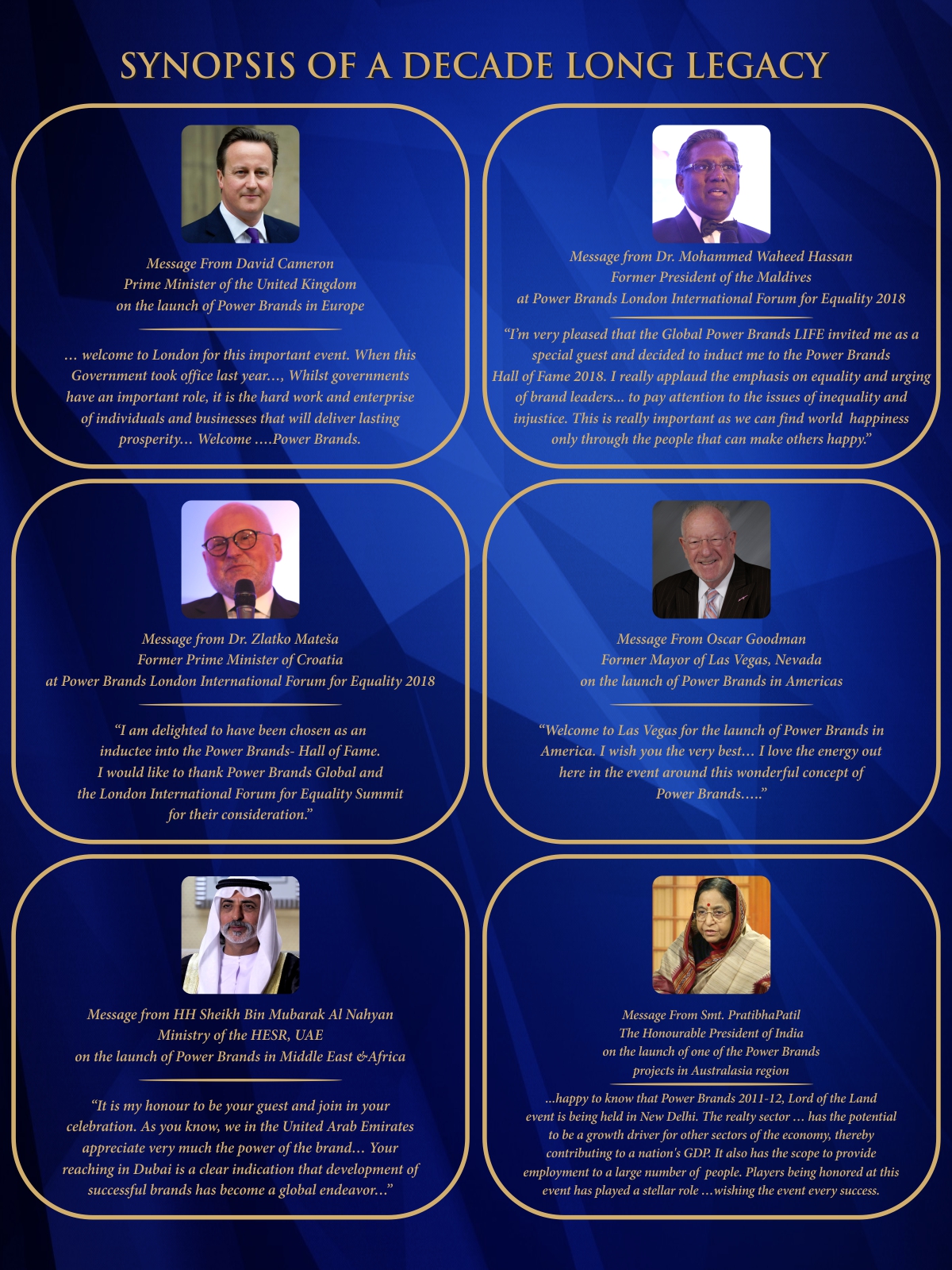 The Power Brands "
London International Forum for Equality
" can actually be called a congregation of Global Political and Social Leaders, Presidents and Prime Ministers who come together every year to pledge their commitment for an equal world. The Power Brands Global Hall of Famers are carrying out work that's changing the future of humanity day by day.
The Launch of Power Brands London International Forum for Equality
On 12th May 2017 at the historical venue- The Oval, London, Power Brands LIFE - London International Forum for Equality was formally launched as a forum for Brands and Social Changemakers to come together for the cause of Global Equality. At the event,
Center for International Competitiveness and Research (CICR)
launched the glittering annual Global Power Brands compendium along with the mega listing of the World's Most Recognizable Brands.
The compendium was launched by
Alec Stewart- former captain of English Cricket team & Iconic Cricketer and former captain of Sri Lanka Cricket team- Kumar Sangakkara.
The Global Power Brands launch was clubbed together with a call to global corporations and world's most powerful brands to make the world more equal, through the London International Forum for Equality. The grand evening of the launch saw a get-together of the who's who from London's corporate world to induct many a stalwart into the Power Brands Global Hall of Fame. Arindam Chaudhuri, the founder of Power Brands, gave the inaugural speech outlining the need for global humanism through a more equal world. The inductees into the Power Brands Hall of Fame included
Mayor's Fund for London, Baroness Chalker of Wallasey, Rt Hon Andrew Mitchell, Nobel Laureate Leymah Roberta Gbowee, the former First Minister of Northern Ireland Rt Hon Baron Trimble, Member of Parliament Mark Durkan, Professor Sir Robert Worcester, Iconic Sri Lankan cricketer Kumar Sangakkara, trailblazing English footballer Gary Linekar, Founder of Football for Peace Kashif Siddiqi, Chile's greatest footballer of all times Elías Figueroa, noted global charity Street Child United, former captain of the English cricket team Alec Stewart and leading Indian tycoon Pankaj Munjal.
The keynote address was given by
MATTHEW PATTEN, CHIEF EXECUTIVE, MAYOR's FUND OF LONDON
on behalf of the Mayor of London, Sadiq Khan. The daytime session had corporate leaders and doyens debating around a plethora of topics focused on equality and the role of corporations and brands.
The first panel discussion was on "The power of social media", hosted by Matthew Leopold (Head of Brand Partnerships, British Gas), with Jodie Cook (Managing Director, JC Social Media), Mary Keane Dawson (Former MD, Neo@Ogilvy), Allan Blair (Head of Digital Planning, JWT London), Simon Ryley (Founder, RightNow Digital) and Nikhil Kalanjee (Marketing Strategy & Planning, HP Inc.).
The second panel discussion was on "The power of sport and culture to challenge global inequality and advance human empowerment". It was hosted by noted sports journalist Mihir Bose (Associated Newspapers, London Evening Standard) along with Arun Kang (CEO, Sporting Equals), Peter Hutton (CEO, Eurosport), Kashif Siddiqi (CEO, Football for Peace), Tom Kingsley (Director, Sport Industry Group Leader, EY) and Jo Clark (Senior Manager, Marketing and Communications, Street Child United).
The third panel discussion was on "How brands use CSR and philanthropy". It was hosted by celebrated sports journalist and co-founder of Sportsvibe.co.uk Ian Stafford, along with Payal Dalal (Head, Global Community Programs, Standard Chartered), Giselle Barboza (Campaign Director, It's A Penalty), Jeff Green (Founder, Balanced Boards) and Brooks Newmark (former MP, Lecturer & Associate Research Fellow at the University of Oxford).
The final panel discussion of the day delved into "How thin is the line between a free market and a fair market?" This was hosted by Nicholas Hellen (Social Affairs Editor- The Sunday Times) along with Andrew Mitchell (MP, former Secretary of State for International Development), James Fleming (Vice Chairman, Arbuthnot Latham), Jeffery Barrett (Former Partner, Norton Rose Fulbright), Matthew Leopold (Head of Brand Partnerships, British Gas) and famed Giles Dilnot (Former Presenter, BBC).
Thus started the truly global journey of Power Brands Global- London International Forum for Equality.
The second edition of London International Forum for Equality took place on 4th June 2018, London.
The evening was hosted by sports journalist, author and broadcaster
Ian Stafford
, and model-actress
Ellie Torrez
. The event was completely focused on the cause of equality with the following inductees into the Power Brands LIFE Hall of Fame.
Charity/Not for Profit sector:
• Helen McEachern
, CEO Cherie Blair foundation – their work focuses on strengthening the capability, confidence and access to capital of women entrepreneurs in countries where they lack equal opportunities. Thanking Power Brands for the recognition, she spoke about the work for gender equality that the Cherie Blair Foundationdoes, saying: "We have been working with women for 10 years, during which we have been able to reach entrepreneurs across the world, from India toRwanda, and have seen their lives transform as their businesses grow. But it's still not enough. Women equality is in danger of going backwards. If the current lack of progress on equal pay continues, it will be 217 years before women become economically equal to men. We want to achieve this equality now."
• Dominique Airey
, CEO, Khulisa - a crime prevention and offender rehabilitation charity based in North London with roots in South Africa.Speaking about the induction of Khulisa, she said: "I'm proud and humbled to accept this award alongside so many. Khulisa is a Zulu word that means 'to nurture'. We believe that people need to be given the opportunity to be nurtured and supported. Everyone deserves to have equal access to a safe nurturing life, and our work ensures that even those who have made mistakes because of a lack of nurture and support can have that access. "
• H.E. Mohamed Waheed Hassan, 5th President of the Maldives
- recognised as one of the most influential voices on foreign relations, democracy, and human rights in the Maldives. With dedicating his life to increasing humanity both at home and abroad, his Excellency has worked in a number of UN agencies. He played a key role in reconstructing Afghanistan and has helped to enrollover 5 million children in schools, vaccinate 6 million and provide health services, water, and vaccination. Speaking about his induction, a H.E. Mohamed Waheed Hassan said: "Thank you for recognising our work. I really applaud the emphasis on equality and urging of brand leaders in India and elsewhere in the world to pay attention to the issues of inequality and injustice. This is really important as we can find world happinessonly through the people that can make othershappy."
• Bright Simons
- Ghanaian social innovator, entrepreneur, writer, recognised by the World Economic Forum as a young Global Leader. President of the mPedigree Network, a system that empowers consumers to instantly verify with a free text message whether their medicines are safe and not counterfeit. Speaking about his work to improveaccess to medicines he said: "If you walk into apharmacy in London, you have a 1 in 100 chanceof picking up something that can harm you. When you walk in to a pharmacy in Moscow and pick up the same bottle of medicine you have 1 in 8 chances of dying and 1 in 9 in Indonesia. In Guinea, you have a 2 in 3 chance that the medicine you are given can actually paralyse you. This Russian roulette-style geographical division of death cannot continue."
Sports:
• Baroness Tanni Grey-Thompson
– one of UK's most successful Paralympian - and now a politician in the House of Lords, who also delivered the keynote address at the evening. Speaking about equality and the work she put into her career, she said: "We know that diversity, inclusion and equality makes good business sense but it is so much more than that. It is about the power to bring about real and lasting change. And it's so important to me as when I suddenly became paralysed there were all those people who told my parents all the things I could not do in my life. It was a whole list of 'Nevers'. I was lucky my parents did listen to any of those 'nevers'. My father, who was the biggest feminist I have ever met, had the biggest impact on me. He encouraged me to go into sport because he realised how inaccessible the world was. He was the one who said that you have to be fit and strong enough to climb up the stairs, to survive. It's where my sports carrier started. I loved everything - being in a chair was not a barrier. I played basketball, I swam and I wheelchair raced. And getting those medals over 5 Paralympics Games takes only 19.5 minutes in the moment but it also takes 25 years of my life of training. That shows how much you have to put in to get that little bit out of it'.
• Dr. Zlatko Mateša
- the 6th Prime Minister of the Republic of Croatia & current President of the Croatian Chamber of Commerce - Croatian Olympic Committee. Speaking about his entry into the Power Brands - Hall of Fame 2018, Dr. Zlatko Mateša, said, "I am delighted to have been chosen as an inductee into the Power Brands hall of fame. Brands have played an important part in my career, from managing the reputations of well-known Croatian companies like Croatia Airlines to representing Croatia as a brand abroad as Prime Minister and now on the Croatian Olympic Committee and the European Olympic Committees as a founder of the European Games. I would like to thank Power Brands and the London International Forum for Equality Summit for their consideration."
Politics:
• Neena Gill MEP
- UK (West Midlands) - Currently serving her third term as a Labour member of the European Parliament for the West Midlands, she'sspent over 18 years working in social housing in a variety of inner-city areas across the UK to tackle issues of social deprivation and homelessness and hit the headlines by setting up the country's first Asian only sheltered accommodation. Discussing her career's story at the event, she said: "Thank you for this honour. I've been a campaigner for equality since a young age, ever since I felt that the Indian and Asian communities were discriminated against, particularly in housing. That's why we set up Asian housing providing Black and Asian people with equal access to housing. Sometimes all it takes to make a difference is a good idea."
• Virendra Kumar Sharma MP
- UK (Southall) - Vocal humanitarian activist and is a member of the Council of Europe Committee on Legal Affairs and Human Rights. Chairs the Indo-British All-Party Parliament Group leads APPG for Gurkha Welfare and Co-chairs APPG on Nepal, Tuberculosis and Hepatitis Group. Speaking about his entry, he said: "I feel proud and privileged to be part of the team who have taken the trouble to fight for the rights and equality of the disabled. I thank you for this honour and look forward to raising even further support for this cause."
Business Figures:
• John Atwal OBE
- His brainchild Premier Decorations started almost 30 years ago from nothing and now employs 250 people at its peak in the year. Discussing his story and values in the Hall of Fame, he said: "I was brought into this country when I was 8 with 3 pounds in my pocket. My father worked hard to provide for us and it was his work that has instilled such work ethic into me and my siblings. During those formative days I realised that there were 'have's and 'have not's, and not much in between. Philanthropy inside me was born as I felt responsible for those who had less than. And I actually enjoyed sharing whatever I had."
• Mike Tobin OBE
- Serial technology entrepreneur and philanthropist. As the former 'maverick' CEO of Telecity Group, the FTSE 250 data centre operator he took from £6million to £3billion, Michael is known across the globe as the leader who created the data centre industry in Europe.Commenting on the power of equality and the way in which philanthropists give generously, he said:"Giving children all this wealth and value is worthless in a world that does not have harmony, does not have equality, and where people are more jealous than there are inspired. If you really want to give something to your descendants give them a better world through education.'
Dr. Arindam Chaudhuri who presented the Global Wage Equality Vision Document based upon Dr. Malay Chaudhuri and his forthcoming book to fight for a just world with 3:1 ratio of wages between the highest paid worker to the lowest paid worker, said: "This vision that we have nurtured for decades and formally announced on 5th May this year, will now gain momentum with such powerful people spreading the word. I am myself embarking on a 15-nation tour in the first phase to present a paper to Political and Corporate leaders across countries."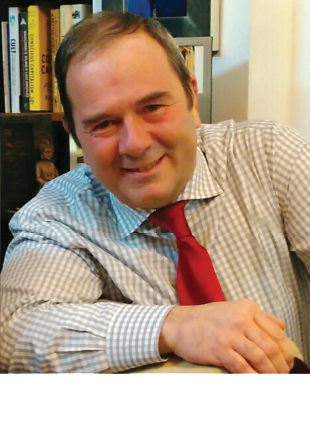 About Global Power Brands
The bi-annual global research is undertaken on tens of thousands of brands from multiple industry segments across the globe. Out of these, as per the results of the global research conducted, 3701 brands qualified for the "World's Most Recognizable Brands Club". From these, 732 brands qualified as most recognizable brands in the Americas; 989 brands as most recognizable in the European continent; 1030 as most recognizable in Australasia and 304 brands as most recognizable in Middle East & Africa. Only 646 brands amongst the tens of thousands of brands researched earned the hallowed and invaluable status of Global Power Brands, brands which truly belong to the world. Out of these illustrious 646 brands Global Power Brands, 50 have been accorded the superstar status of Iconic Power Brands (Global), and only 12 have been conferred the unique and most coveted status of Cult Power Brands (Global).
The Global Power Brands project is, thus, a result of a stringent multi-phase research for determining the distinguished 646 Global Power Brands, and also for recognizing other preeminent brands around the globe. The selection has been done after an extensive research across multiple industry categories in more than 75 countries.
Roots
Power Brands started in 2006 as an annual honour for the most powerful brands, today, Power Brands is not just a global standard of brand excellence and an ode to the power of Individual Brands, but has emerged as one of the greatest symbols of individual and corporate commitment towards a better world.
On one hand, every two years, on the basis of extensive researches in various continents and countries across the world, a list of the Most Recognizable Brands is brought out and only these brands that are pre announced and declared are offered the title of Power Brands. On the other hand ever year, leaders of this exclusive club of power brands, come together to join hands pledging their commitment towards a more equal world at forums like the London International Forum of Equality.
The global initiatives of Power Brands traces its roots to the launch of Power Brands "Global Superpower Edition" 2011-12 at the Marriott, Grosvenor Square, London, UK. It was supported by then PM of UK, David Cameroon and on his behalf his speech delivered by
British MP, Carolene Nokes. Other key guests included Guy Kawasaki - American marketing specialist, author, and Silicon Valley venture capitalist, Lord Meghnad Desai, Lord Karan Bilimoria and Lord Swraj Paul. Sir Robert Worcester
, lead the business discussions and Special Guests of Honour who delivered the key note addresses included
Canadian MP – Ruby Dhalla and British MP - Priti Patel
. The event had participation from many other British MPs.
The event then traveled to Dubai and Las Vegas. The 2012-13 event at the Jumeirah Emirates Towers, Dubai was supported by
His Highness Sheikh Nahayan bin Mabarak Al Nahayan - Minister of Higher Education and Scientific Research, UAE. On his behalf Her Excellency Reem Al Hashimy, UAE Minister of State
graced the evening as the Chief Guest. Special guests included
His Excellency Mohammed Ahmed Bin Abdulaziz Al Shehhi, Under Secretary - UAE Ministry of Economy, His Excellency M.K.Lokesh - the Indian Ambassador to UAE and His Excellency Sanjay Verma - The Consul General of India to Dubai
.
The 2013-14 event was at The Venetian, Las Vegas.
The former Las Vegas Mayor, Oscar Goodman
flagged off the event with his keynote message followed by an insightful speech by
marketing guru Martin Roll. Professor Arthur Wheaton of Cornell University and Professor Ofer Sharone
from MIT also shared their wisdom and experience with the audience. Former Canadian MP Ruby Dhalla and Indian Rap sensation, Honey Singh led the GlamMe evening extravaganza. Also in attendance were
Stavros Anthony - Las Vega City Council Mayor Pro-Tem, Bruce Spotleson of Greenspun Media Group, Debbie Donaldson, Las Vegas Business Press General Manager, Steve Schorr of Cox Communications, Ohio House of Representatives Jay Goyal, Clark County Commissioner Chris Ginginchuliani, Miss India USA Richa Shukla, Miss India Canada Mallika Kapur and various US senators. US senator, Dean Heller's
Senatorial Recognition was presented to Power Brands on recognition of bringing such a mega event to Las Vegas.